Missing since Friday July 13th from right outside the Lederal Safety Shoe shop since about 12:15 PM,  Lyric Morrissey, 11, and her cousin Elizabeth Collins, 8 are the subject of an exhaustive air and foot search for the third day.
Both girls bikes were found 2 miles away from where they were last seen at Meyers Lake next to route 27.  About 20 yards away,  the bag and cell phone of one of the girls was also located.
Misty Morrissey,  mother of Lyric, believes the girls have been abducted.
Investigators are stumped and frustrated they have not found any sign of Lyric and Elizabeth whatsoever and compared the disappearance to" vanishing into thin air".
Heather Collins,  Elizabeth's mother, is Misty Morrissey's sister.   Lyric Morrissey also has a brother,  Dillin.
As with any alleged abduction, family becomes the initial focus of investigators in an effort to rule them out.
Daniel Eugene Morrissey,  Lyric's father and Elizabeth's former Uncle by marriage,  has had a very long and varied criminal past.
While it is of course not known if Mr. Morrissey has had any recent contact with his daughter, court records show that he was investigated for a dismissed domestic abuse battery with a weapon /mental illness charge less than one year ago.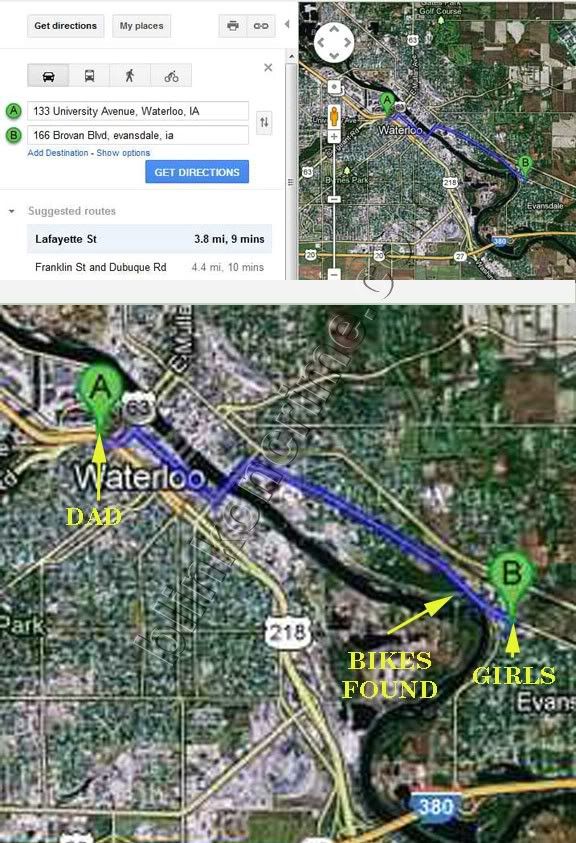 He has been in and out of the corrections system since as early as 1997.
Mr. Morrisey has a myspace  set to private entitled urmomsamessedupbitchhh.
At the time of this publication,  calls to Black Hawk PD for comment on this story had not been returned.
No clothing description or bike specs have been released.
map by Klaasend
Related Posts:
178 Comments
RSS feed for comments on this post. TrackBack URI
Leave a comment