Dyersburg, TN- Missing Mom Karen Johnson Swift's disappearance is looking more and more like whatever fate the well-liked fitness buff  encountered,  happened very close to her home on Willie Johnson Road.
David Swift, Karen's estranged husband, has told police Karen left the home at approximately 1:30 am the morning of October 30th after an earlier jaunt to retrieve the couple's youngest daughter from a planned Halloweenfest  sleepover.
Karen attended a Halloween soiree at THE FARMS golf club earlier in the evening dressed as cat-woman;  her costume was found in her unlocked and abandoned car.
According to the Dyersburg Country Club by laws,  regardless of handicap all attendees  turned into pumpkins by midnight that evening so it is not likely Karen was headed back there.  Reports of her leaving the family residence at that hour are based solely on her husband's last exchange with her.
Swift filed for divorce from David on October 1oth.   The couple had been divorced and remarried to each other previously.
David, a former Columbia Forest Products employee,  is an independent business owner in the aerosol packaging field and Karen has been developing a horticulture business as "The Yard Lady".
While Mr. Swift has refused all requests for comment by the media, he is also now refusing to speak to investigators and has referred all inquiries to his recently retained attorney.
Mr. Swift was observed in his driveway after he returned from an interview with DCSO in the first days of the investigation on crutches.
Mr. Swift underwent emergency surgery for a torn patella tendon in April of 2011 but by all accounts has long since recovered from the injury sustained at his daughter's soccer field.
Speaking on the condition of anonymity, sources inside the investigation have confirmed to www.blinkoncrime.com that David Swift refused to allow a search by consent of the couple's 5 acre property after the first meeting where he allowed officers to look throughout the home for purposes of confirming Karen was not there.
Following discovery in a overgrown area included in the search grid and submission to the state crime lab, the Dyer County Sheriff's Office (DCSO) prioritized  a pair of jeans and gray zip-up requesting expedited results.
The source goes on to say those items have been identified through test results of mitochondrial DNA to belong to Karen Johnson Swift.  The match was made from a sample comparative from Karen's mother.
It is believed there are additional items that may belong to Karen that have been recovered- however, the forensic results necessary to confirm her positive association are pending.
During the topical search of the Swift home which did not  include crime scene processing, the Swifts's two young daughters spent time at the neighbors home.
Jennifer Lamb kept the Swift girls while police were at the Swift home interviewing their father with the intention of locating Ms. Swift.
In a seemingly inexplicable coincidence, both the Lambs and the Swift's uploaded an image of a rainbow appearing overhead of the two homes spanning over 10 acres, the very day Dave Swift was served his divorce papers.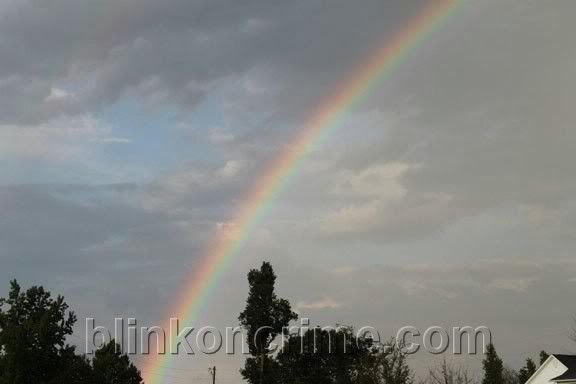 Marty Lamb, on his way to work at Nucor early Sunday morning, pulled in behind Karen's white Nissan Murano and "flashed his lights" , only to learn she was not in her car.  With no sign of foul play,  Lamb assumed Swift returned the short distance to her driveway with  no cause for alarm and continued his commute.
DCSO has reported that Karen Swift's car had a flat tire and has been impounded for crime scene technician processing. What has not been addressed publicly is how the tire came to be flat in the first place.
Karen's 2004 Murano is equipped with an electronic tire pressure monitoring sensor and she always backed down the nearly 200 foot driveway.   As their was no evidence of a tire blowout, nor could she have been traveling at a high rate of speed,  this editor questions how she could have missed a flat tire getting into the car in a well lit driveway in the first place,  followed by missing the alarm signal and light on her dashboard.  Swift's car was found across from the home of John Hogshooter at 310 Harness RD.
Hogshooter Not Hogtied
John E. Hogshooter, in court yesterday on aggravated animal cruelty charges stemming from an alleged incident reported  on October 7  by David Swift, was granted bond.
Prior to Mr. Hogshooter's brief incarceration, his vehicle was impounded and processed for any possible evidence relating to Karen Swift's disappearance.  Nothing of forensic significance was found and the truck was returned to the former Dyer county Ervin  softball coach.
In contrast to Mr. Swift's refusal to allow LE to search his adjacent property, Mr. Hogshooter allowed his home and property to be searched voluntarily.
Hogshooter is alleged to have poisoned the Swift family dog as well as an as yet un-named neighbors pet who died as a result.
Within the complaint filed by David Swift,  he states that he watched his dog walk onto the Hogshooter property and upon return, became  ill.
A medication was administered by the Vet to counteract whatever the dog may have ingested and JackBoots was returned to the family the next day.
JackBoots,  dog rescue of the Swift family,  has a scannable chip implant that emits a low level frequency signal detectable by a scanner,  or radio frequency identification (RFID), so it is possible to isolate for investigative purposes.
Doppelneigbor – the blinkipedia
(noun) Neighbor who is a ringer for the neighbor who is a person of interest.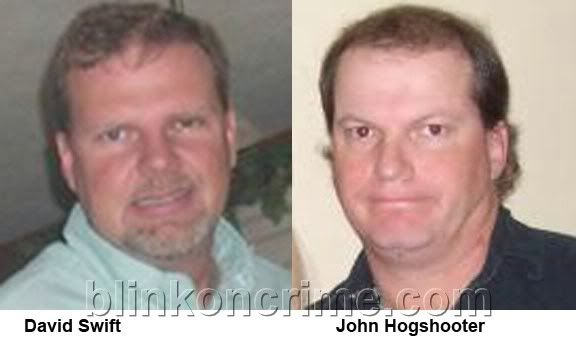 These gentleman's issues may have infinite degrees of separation- Siberian even, but how uncanny is it that they resemble each other to the point of  fooling CCTV resolution?
Check back to www.blinkoncrime.com for updates
Images courtesy family photos,  processing courtesy of Klaasend
Jacqueline Beaufort contributing editor