VOLUME I
What I did on my Christmas Vacation is all Netflix fault.   Netflix, by way of NYU filmakers Moira Demos and Laura Ricciardi.   Those of us perfectly happy with our kids home from school, family blowin' up the driveway and gobbling our culinary masterpieces faster than we can create them- are salty.  For those of you similarly afflicted by the tractor beam gravitational pull generated by Netflix new documentary, Making A Murderer, you are not alone.  At least I am admitting to hiding out in my study with the binge watch essentials: beats, backlit keyboard,  free hand to smack my own mouth silent as I digest all 10 episodes.  Occasionally… a swirl of Barolo.  Press Play, return to your cave or… [SPOILER ALERT]
10 Years=10 Episodes=690ish Hours Unseen Footage
This docuseries should come with 100% online access to the full case file to  not only vet the information but to allow the viewer to consider information that was not presented, or that has graced the annals of the cutting room floor.    It does not.   Those of us in the litigation sphere of the criminal justice system immediately taxed our Lexis and Westlaw resources for more.  Trial transcripts, available pre and post-trial filings are an important adjunct to context of Making a Murderer and I will be navigating that discussion in Volume II of this piece.
Teresa Halbach, a freelance photographer for Auto Trader Magazine, had been to the Avery salvage yard five times prior to Oct 31, 2005.   Avery Salvage Yard is a 40 acre+ field of crushed cars, parts and trailers housing several members of the Avery family, gravel pits and a quarry.  Not going to lie,  I would not choose to live next to the Avery brood for reasons I will discuss later, but then again, I am the person who drives past properties with the various appliance or dead vehicle cemeteries scattered about and ponder- I wonder where the dead body is?
Although it is not included in the series, there is little disagreement as to how Halbach ends up at the Avery compound following her last visit on October 10, 2005.   Steven Avery called Auto Trader the morning of October 31, 2005 and requested Halbach on behalf of Barb Janda, Steve Avery's sister, to be there that afternoon to take photos of the van she was selling.  In response, Halbach called Janda's home phone and left a message asking for a confirmation call.   Whether or not Janda was actually listing the van for sale is not clear, but the fact that Avery attempts to call Halbach's cell and Auto Trader after it appears she has not arrived by 2:27PM (her voice-mail left on Janda's landline) her proposed time of "around 2 or maybe later" by intentionally blocking his cell phone number using the *67 feature is suspect. Avery will call her cell again with his open cell line.
Perhaps the unearned reputation Avery had from his 16 year bid in the joint for a rape and attempted murder he did not commit preceded him.
State of Everyone v Steven Avery
In 1985 Steven Alan Avery was convicted in the rape and brutal attempted murder of Penny Beerntsen.   Although Avery had a solid alibi from over 16 witnesses, Ms. Beerntsen pointed the finger at Avery in her eyewitness testimony-twice. Avery was out on parole for a separate offense when arrested for Beerntsen's sexual assault.    While no choir boy, Avery had nothing in his past to indicate him capable of the brutal sexual assault.   Enter the hot mess that was  is the Manitowoc County Sheriff's Office (MCSO).   Enter and stay.   Avery had a relative who he recently ran off the road at gunpoint, while preforming a lewd act (according to her) who was married to a MCSO deputy.   Her bestie was a female officer Judy Dvorak who took the police report from Penny Beerntsen- and took the liberty of implicating Avery to her.
Although the Manitowoc DA at the time, Denis Vogel , was filling his case file against Avery with statements from his own staff that they believed another was responsible , Avery was convicted on the basis of Beerntsen's direct testimony against him AS WELL AS the erroneous identification of Wisconsin lab analyst Sherry Culhane.   Fast forward to Steven Avery exhausting all of his available State of Wisconsin appeals.  Avery's post-conviction relief efforts ring the doorbell of  The Innocence Project.
Through the Wisconsin Innocence Project, after 18 years in jail for a wrongful conviction, newly tested DNA evidence freed Steven Avery in 2003.  Sherry Calhune, The same DNA analyst who testified erroneously that a hair associated with the Beerntsen attack beloged to Avery, now produced the sample that would free him.   According to a recent interview with Ms. Beerntsen, Manitowoc Police Department (not to be confused with the county agency, MCSO) Beerntsen says she was told a few weeks after Avery's arrest MPD felt he was the wrong guy.  Responsibly, Beersten followed up with a call to MCSO where she was promptly told not to speak to MPD again as it would only serve to "confuse her.  While that call does not seem to be memorialized in any way in 1985,  at the very least, Andrew Colborn of the Manitowoc Sheriffs Office was well aware of that for over 8 years.  IN 1995, Colborn took a call from a Brown County detective who arrested a Gregory Allen who believed as a result Avery was in custody- erroneously.   Colborn alleges he transferred the call to a detective, makes no report.  That is until the day after Avery is exonerated and subsequently released based on the DNA evidence implicating Allen.  As was later learned during the civil suit- save for the fateful attack of Ms. Beerntsen, Allen had been under surveillance by police.   According the MAM docuseries, Allen was a suspect in other attacks but never arrested.  Allen was also never charged in the horrific assault on Penny Beerntsen although DNA directly implicated him.  Allen is eligible for parole for his 1995 conviction for   In the docuseries this brave victim is introduced without revealing her identity.  Gregory Allen is eligible for parole in October 2016.
Pausing here for a second to sharpen a point.  In the time that Avery was wrongfully incarcerated, due to the negligence and willful acts of Manitowoc District Attorney Denis Vogel, Manitowoc Sheriff's Office, personnel Allen  brutally raped and assaulted another victim.   Probably a deliberate underplay of the series, but definitely not as contained in the $36 million dollar civil suit against Vogel, Manitowoc.
36 Million Reasons or.. One?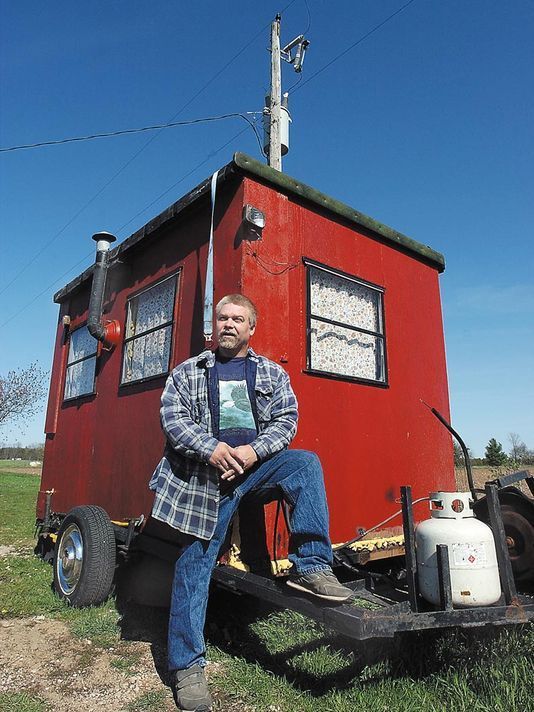 Steve Avery came home to the comfort of an ice fishing shanty. Not much larger than the cells he occupied over the last 18 years- Avery's mobile abode was plopped on a dirt heap at the junkyard.  Not discussed in MAM, while Avery was incarcerated both Avery's brothers faced serious criminal allegations to include sexual abuse and domestic battery.   Chuck and Earl were running the Avery business, having since disposed of such criminal unpleasantry through individual rehabilitative programs.  Avery's ex wife Lori ran off with Avery's sisters ex husband Pete Dassey.  Attempts at editing this information for greater  ease of comprehension fails me, so go with it.
Steven Avery hired  Steve Glynn and while it took about a year- the recent depositions in his civil suit were beyond fruitful.   The series makes a very strong argument that Avery was looking at a $36,000,000 payday.   However, at the time, the largest (essentially) wrongful conviction payout in the only 2 states that allow punitive damage awards outside of the cap +was West Virginia- $1,000,000.  Even though there was clear and convincing evidence of prosecutorial and police misconduct, in 2005 did anyone really think $36 mil was even in the ballpark of a reasonable award?  Not according to Penny Beerntsen.  Beerntsen recently claimed that she did not participate in Netflix Making A Murderer  because she was convinced (need names) believed Avery was innocent in the murder of Teresa Halbach.  Beerntsen was not.  Beerntsen also revealed that in the early pendency of Avery's civil case, Avery called her directly and asked her to buy him a house.
The Avery bill, slated to hit the Wisconsin House floor for vote on November 1, 2005 was passed unanimously after its spearhead Rep Mark Gundrum's task force, appointed by then-Governor Jim Doyle met Avery's impassioned testimony with a standing ovation.  Steven Avery became the Wisconsin poster child for wrongful incarceration reform.
On November 3, 2005 Karen Halbach reported her 25 year old daughter Teresa, missing.  It was quickly learned Teresa was last seen at Avery Salvage on Halloween.  Manitowoc deputies (Colborn) interviews Avery at his trailer, where he grants permission for a search of his property.  You read that correctly.  The very people Steven Avery was suing civilly, represented by two of the best civil attorneys in Wisconsin, roll up at his residence responding to Halbach's disappearance.
Within 3 weeks of initial depositions from MCSO deputies-in Avery's civil suit, Halbach's Toyota Rav4 was located, partially hidden, on the Avery Salvage lot by Teresa's cousin and former private investigator Pamela Sturm on November 5th.  Three days later Teresa's cremations would be found in three different locations of the Avery property.  A young woman is dead.  Millions hang in the balance and Avery may have the best civil attorneys in Wisconsin, but his needs have changed.
VOLUME II Publishes Wednesday January 13
Please Join www.blinkoncrime.com Editor In Chief, Christina Stoy on THE DANA PRETZER SHOW
Live on Thursday January 14 at 9 PM EST discussing Steven Avery and Making a Murderer
Related Posts:
50 Comments
RSS feed for comments on this post. TrackBack URI
Leave a comment