Breaking News:  The body of Hannah Elizabeth Graham has been recovered.
Press Conference involving multiple agencies to be held momentarily.
Thoughts and prayers are with Hannah, her family and friends this evening.
"It is heart-breaking for us that the person or persons who know where Hannah is have not come forward with that information, "It is within their power both to end this nightmare for all, and to relieve the searchers of their arduous task." – John and Sue Graham on October 13,  the one month anniversary of their daughter Hannah's disappearance.
"…The gentleman with whom I spoke worked as a bouncer at a restaurant and bar where Jesse Matthew was a regular this past summer. And he told me, he said Coy, I had to ban him for about two months because I was concerned about the safety of the young women in the bar…" – Coy Barefoot to Wolf Blitzer, CNN
Jesse Leroy Matthew awaits his first court appearance behind the walls of Albemarle County Regional Jail on charges he abducted 2nd year UVA student Hannah Graham- with the intent to defile.  Matthew's preliminary hearing is currently scheduled for December.   Matthew is represented by former Commonwealth prosecutor Jim Camblos.   Camblos says that very little evidence against his client has been shared with him.
Matthew was investigated at least twice between 2002 and 2003 for rape allegations involving two female students at Liberty University and Christopher Newport University respectively.  No charges were filed in either case however,  Matthew's scholarship was revoked to Liberty and he was expelled the same day of the Liberty U incident- October 17, 2002.
Seven years later to the day- Morgan Dana Harrington would come in contact with Matthew outside of the JPJ arena.  It is presumed Harrington made arrangements to secure a ride, or "fare" in Matthew's gold minivan taxi.   On November 5, 2009  a resident of the apartments at 15th & Grady reported what he recognized as Harrington's Pantera shirt- the one she was last seen wearing the evening of her disappearance- draped over a bush.    Charlottesville Police retrieved the shirt and forensic testing confirmed that it was indeed the tee belonging to Morgan Harrington- a gift from her bestie Sarah Snead who had positively identified it to Cville detectives from a photo.
Testing also revealed a DNA profile of an African American male suspect of a brutal, unsolved rape that occurred in Fairfax, VA on September 24, 2005.   The victim, whose identity is being withheld as a victim of a sexual assault , was choked unconscious after enduring a vicious beating which was mercifully interrupted by a passerby.
Morgan Dana Harrington's mostly skeletonized remains were found in a hay-hollow the morning of January 26th, 2010.   Morgan had been pulverized by her attacker- according to Morgan's Mother, Gilbert (Gil) Harrington- she had also been raped.
By July 2010,  police and the FBI had a face, physical description,  similar victimization pattern and a DNA match-but no name.  That changed on September 25th, 2014. (more…)
BREAKING NEWS- sources inside the investigation of both the murder of Morgan Dana Harrington and the abduction with the intent to defile of 2nd year student at UVA, Hannah Graham  have confirmed to S. Christina Stoy, Editor in Chief of www.blinkoncrime.com that DNA belonging to Jesse Leroy Matthew, Jr matches the DNA link to that of a wanted suspect in the Harrington murder.
Further tests are being conducted to connect Mr. Matthew to a 2005 Fairfax sexual assault as well.
This is a developing story,  please check back for updates.
Charlottesville, VA-  Second  year University of Virginia student Hannah Graham texted her friends last Saturday morning at approximately 1:20 AM- saying she was lost in the area of Wertland Street.
She has not been heard from since.  According to Charlottesville Police Captain Gary Pleasants,  it is believed Ms. Graham was intoxicated at the time of her disappearance and may have been on her way to a party but did not arrive.
In recently released images of Graham leaving her apartment at approximately 9:30PM Friday evening, she is shown wearing black skinny pants and a gold and black mesh crop-top, beige shoes or sneakers.
Ms. Graham's disappearance is not related to a 2013 teen runaway from Indiana with the same name.
The disappearance of Ms. Graham comes on the heels of the recently adjudicated murder trial of Alexis Murphy  , the disappearance on the same date as Ms. Graham in 2010 of Samantha Clark and of the course the unsolved murder of Morgan Harrington, who disappeared from John Paul Jones arena in October 2009 and later found murdered in January 2010 on Anchorage Farm in Albemarle County.
In Ms. Harrington's case, the DNA profile and sketch of the suspect in her murder as well as a rape in Fairfax county in September 2005 was released, but he has not been identified by name or captured.
Ms. Murphy's  remains have never been recovered and Ms. Clark is still missing,  also believed to also be a victim of Randy Allen Taylor, currently serving a life sentence for Murphy's kidnapping and murder.
Hannah Graham is described as 5'11 tall, with light brown hair and blue eyes.  Police are asking anyone with information regarding her disappearance to call the Charlottesville Police Department at 434-970-3280 or CrimeStoppers at 434-977-4000.
Erin Corwin, 19 and approximately 2 weeks pregnant  when she disappeared on Saturday June 28th was last seen at about 10AM on Valle Vista and Ranch Rds, according to Police witness Michael Beasely and his sister Jeanette.   Corwin is the wife of Corporal Jonathan Corwin, stationed at The Marine Corp Air Ground Combat Center ( MCAGCC).
Beasely describes a young man in a compact red car having a brief conversation with her, and watched her get into the red vehicle after locking the passenger side door.  While Beasely said he could not state for certain it was Erin Corwin, it was definitely her car that was located about 100 yards into the desert from where he saw it on June 30th.   Beasely's sister Jessica also recalled seeing the car  at some point that morning, but did not see the exchange with the man in the red car.  The Beasely's gave this information to police at the scene while interviewing the water services worker who called detectives.
"When I came back a half hour later, just the (blue) car was sitting there. Next thing, I hear the weekend goes by and Monday morning the sheriffs are there looking for this girl because she ain't home yet," Beasley recalled.
Four search warrants have been released in the investigation into the disappearance of Erin Corwin, one of which has prompted and internet firestorm of friends and family members describing what they allege are direct accounts from Cpl. Corwin.   As the affidavits to the subpoenas for exigent warrants have been sealed, it is not clear why one of those search warrants was for the dark colored Jeep of fellow Marine Christopher Brandon Lee.   According to several online sleuthing sites claiming to have members that are in touch with John Corwin and in some cases investigators, Lee and Erin had a previous relationship that ended last Spring, but following her disappearance Cpl. Corwin located items  he says, on June 29th ,  prompted him to believe that the child Erin was carrying may not have been his.
In an exclusive development in the case,  through a source that agreed to speak to BOC on the strict condition of anonymity because they are not authorized to speak officially on the investigation, a review of Cpl. Corwin's duty roster shows that he was NOT on duty Saturday June 28th ;  the morning after  he attended  a neighbor's outside gathering that Erin Corwin left early.
Corwin told investigators that his wife had made plans to scope out sites to photograph during her Mother's scheduled visit a few days later.  It is not clear why Corwin said that he last saw Erin at 7 AM but was not able to offer a description of her clothing or why it appeared  (Beasely) that she just headed toward the park at 10 AM.  Corwin told investigators he thought he had to wait 24 hours to report a missing person and reported her missing to a San Bernardino county deputy Sunday morning.  In an earlier interview,  Erin's mother Loretta ( Lore) Heavilin said her son in law told her he did not report her missing because he thought she was staying overnight at the White Rock Ranch and Rehab – where Erin had adopted her horse Cassy.  Both Nichole and Christopher Lee adopted horses at White Rock as well.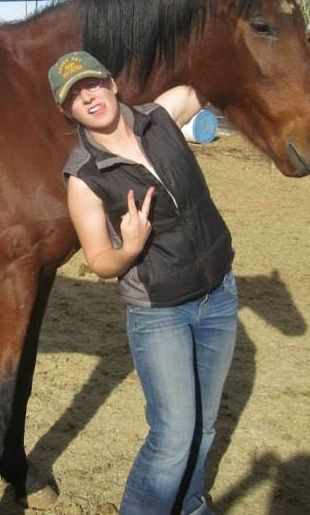 Later that evening,  when Corwin's commanding officer went to the couple's home to check on Jon,  fellow members of his 3/11 India Battery  were called to Corwin's residence after he was found inebriated and apparently destructive to the property to assist in it's clean up and repair .   He was placed on PTAD orders  the same day.
Investigators will not confirm nor deny if they have developed a suspect or suspects in Erin's disappearance,  but they have stated that neither Christopher Lee nor his wife Nichole are considered suspects or persons of interest in Corwin's disappearance.
"Just because their names are in a search warrant or you received their names from some other source rather than the sheriff's department; they're not listed as suspects or persons of interest so we wouldn't have a comment."
 In what may be an unrelated event,  Lee was charged on July 4th with possession of a destructive device.   Lee secured a $25,000 bond  according to police records and is scheduled to be arraigned in September.   Lee was arrested during the execution of a search warrant at the White Rock Horse Rescue.   
Late this afternoon, within an hour of the San Bernardino County press release,  a portion of the previously sealed affidvavits surrounding warrants were released.  Although SBSD  has previously stated that Christopher Lee was not considered a suspect, he is absolutely implicated in the documents according to The Desert Sun.
"It is highly likely that Erin could have been harmed by an unknown firearm," detectives wrote in court documents. "Sometime after Erin left with Lee, her phone was deactivated (turned off). Detectives believe if Erin was injured and left at an undisclosed location, she would not (be) able to call for help."
 It  is unknown if what investigators swore is accurate, or perhaps were unaware of Beasely described as a  "…light haired,  skinny guy, small guy, not much hair, but sandy colored hair, shorter than 5'9″, who could have been a Marine…"  individual appeared to meet up with Erin Corwin at approximately 10 AM the morning of her disappearance.  But it is clear that if Mr. Beaseley's account is accurate, it is not likely to fit the description of Chris Lee.
In the wake of the recent developments,  The Heavilin family returned to Tennessee over weekend.
BlinkOnCrime Editor Jacqueline Beaufort contributed to this report.
Next Page »